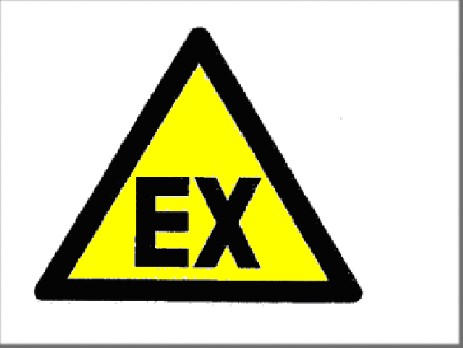 Where ever you have pedestrian access into a hazardous area then appropriate signs must be used, examples are shown opposite.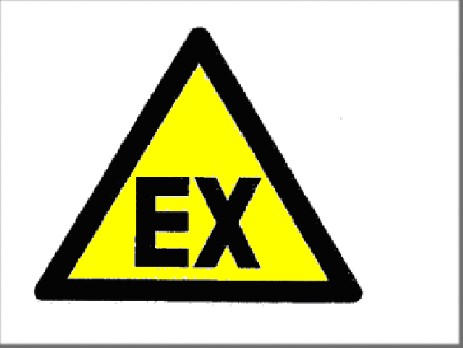 The DSEAR Regulations require specific information and training for operational personnel, we have successfully delivered many DSEAR projects for a number of large clients.

United Kingdom

The ATEX 137 Directive 99/92/EC (Known as the "User Directive" has been combined with the Chemical Agents Directive 98/24/EC to form the Dangerous Substances and Explosive Atmospheres Regulations (DSEAR).


Similar requirements exist across the European Economic Area

Route to Compliance

Basic Route for DSEAR Compliance is applying the principle of As Low As Reasonably Practicable shown below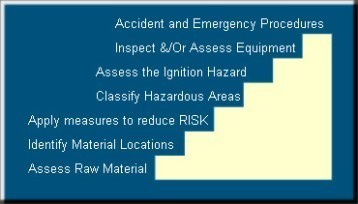 ATEX Compliance

We list below the main areas associated with the Classification of Equipment under the ATEX Directives to assist you

in identifying your requirements

Equipment Group I Category M1 Underground Use

Equipment designed, and, where necessary, equipped with additional special means of protection

Affording a very high level of protection

For use in underground parts of mines as well as those parts of surface installations endangered by fire damp and/or combustible dust

Must remain functional, even in the event of rare incidents relating to equipment even with an explosive atmosphere present and is characterized by means of protection such that either, in the event of failure of one means of protection, at least an independent second means provides the requisite level of protection; or the requisite level of protection is assured in the event of two faults occurring independently of each other

Equipment Group I Category M2 Underground Use

Equipment designed Affording a high level of protection

For use in underground parts of mines as well as those parts of surface installations endangered by fire damp and/or combustible dust

Equipment in this category is intended to be de-energized in the event of an explosive atmosphere being present

Characterized by means of protection such that equipment in this category

Assure the requisite level of protection during normal operation and Where more severe operating conditions occur, in particular those arising from rough handling and changing environmental conditions

Equipment Group II Category 1 Non-Mining Applications

Equipment designed

Must be capable of functioning with a very high level of protection

Equipment in this category is intended for use in areas in which explosive atmospheres caused by mixtures of air and gases, vapours or mists or by air/dust mixtures are present continuously, for long periods or frequently

Must ensure the requisite level of protection, even in the event of rare incidents relating to equipment.

Characterized by means of protection such that:

Either, in the event of failure of one means of protection, at least an independent second means provides the requisite level of protection; or

The requisite level of protection is assured in the event of two faults occurring independently of each other

Equipment Group II Category 2 Non-Mining Applications

Equipment designed

Must be capable of functioning with a high level of protection.

Equipment in this category is intended for use in areas in which explosive atmospheres caused by gases, vapours, mists or air/dust mixtures are likely to occur

Characterized by means of protection such that:

Ensures the requisite level of protection, Even in the event of frequently occurring disturbances or Equipment faults which normally have to be taken into account

Equipment Group II Category 3 Non-Mining Applications

Equipment designed

Must be capable of functioning ensuring a normal level of protection

Equipment in this category is intended for use in areas in which explosive atmospheres caused by gases, vapour, mists, or air/dust mixtures are unlikely to occur or, if they do occur, are likely to do so only infrequently and for a short period only